PROJECT OVERVIEW
Stampet initiates and stores all of your loyalty stamp cards automatically. With the integration of the Sense360 technology, it automatically sends a push notification to users for a stamp upon arrival in the location. When they get to the register, the user can swipe their notification to attain the stamp. When they get to a certain number of stamps, users can receive an award or free coupon.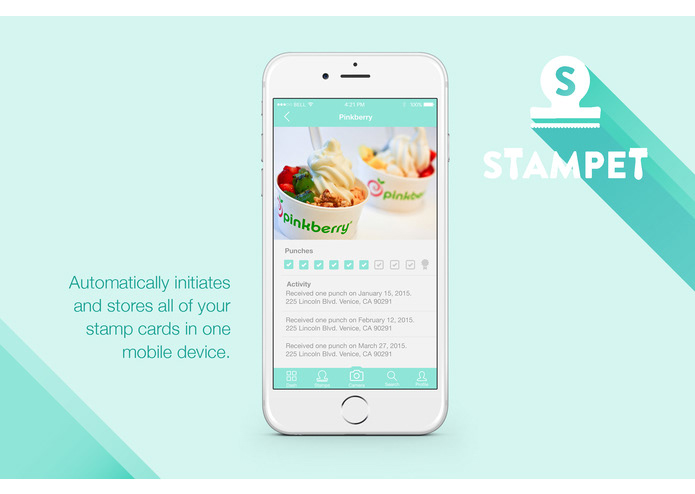 DESIGN PROCESS
Stampet was created at the Sense360 Hackathon in Santa Monica, CA. After 

research into the Sense360 SDK, 

an idea of a product was developed

. Features of the app were defined through group communication with the user and business owner in mind. User experience was devised through whiteboarding and sketches. Variations of screen layout and organization of the information were wireframed to achieve the optimal user interface.
MY ROLE
Stampet was a result of a collaboration between three iOS app developers and another UX/UI Designer. Design of the app's user interface were divided up between the two designers and sent to the front-end iOS developer to complete the product by the end of the 24-hour sprint.
UX/UI Designers: Sarah Han, Elaine Pham
iOS Developers: Steven Yang, Kevin Mowers, Andrew Aquino